SPOTLIGHT: ECO Retrofit Solutions for NYC's Trinity School Renovation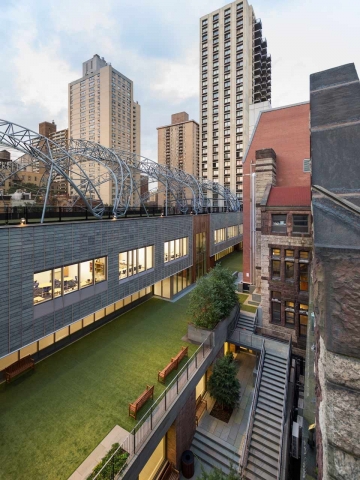 ECO Cladding's versatile systems are ideal for the complexities of retrofit and renovation projects. Rogers Partners has been working continuously with the Trinity School to coordinate a complicated renovation and expansion for this independent K-12 school on New York's Upper West Side of Manhattan.
Since its founding in 2013, Rogers Partners has embraced a new commitment for how cities are conceived and built, and the changing role architects play in shaping them. For this project, the design team selected two ECO Cladding subframing systems to serve as the engineered backbone for natural slate and IPE wood rainscreen facades. The need to integrate two different rainscreen materials on the same elevations seamlessly led the design team to selected ECO Cladding's built-in system adjustability.
The contrast in the design materials provides a dramatic backdrop for this center for learning and has been warmly received by children, parents, and faculty. An adjustable Hci.14 system was utilized to focus on the thermal performance of the exterior envelope, meeting the design team's requirements. ECO Cladding systems are ideal for retrofit and renovation projects, given their ability to address c.i. requirements and also accommodate out-of-plumb wall conditions without sacrificing air barrier performance.
For a project overview from the architect on this project click here.