Workplace Design Done Right - Solutions for ACM Cladding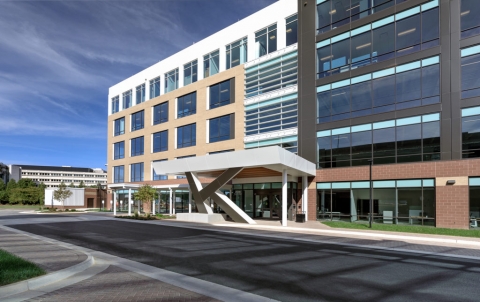 A well-designed workspace feels inviting and energizing - and promotes productivity! The new Kinsale Insurance Headquarters designed by Baskervill's Architecture and Design teams presents an attractive and practical building with every square foot designed with the people who work from within in mind. Frames of alternating brick and ACM metal paneling define the ground-up, five-story building—and the enlarged glass acts as a transparent connective tissue throughout the design.
ECO Cladding's Vci.11 aluminum subframing system was selected to support the facade's grey ACM panels. The rainscreen attachment system has 1.5" adjustability and has the ability to meet the building's thermal requirements.
Aluminum composite panel (ACP) and aluminum composite material (ACM), are types of flat panels that consist of two thin aluminum sheets bonded to a non-aluminum core. ECO Cladding systems for ACM panels continue to gain increasing market share through some of North America's top ACM fabricators. ECO Cladding provides either vertical or horizontal "CI Subframing" that combines with a fabricator's ACM panel and "Panel Subframing".

Increasingly, various formed or sheet metal panels are being chosen for rainscreen wall assemblies. These customizable, highly engineered, open joint, drained and back-ventilated, metal panel rainscreen systems are capable of producing stunning, high-end aesthetics. Painted aluminum panels are available in any color using a post-fabrication Kynar finish. Stainless steel panels are available in a variety of alloys and finishes. Perforated options are available in both aluminum and stainless steel panels.