SPOTLIGHT: High-performance Metal Plate Facade for Hartford Hospital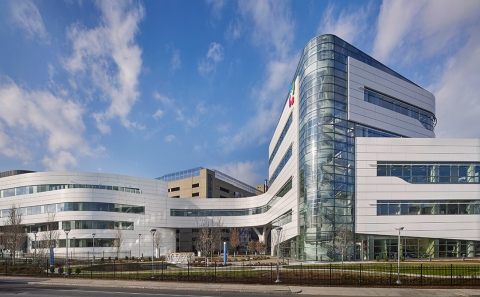 The design teams at HDR and Perkins & Will joined forces with Hartford Hospital leadership, doctors, and staff to design the hospital with the "Patients First" principle guiding their way. This new clinical and research facility was designed to offer both staff and patients sweeping outdoor views and provide a relaxing environment. The Bone and Joint Institute building was selected as "The Best Project in Healthcare Category" by Engineering News-Record.
ECO Cladding's Vci.10 thermally broken rainscreen subframing was selected for the Metalwerks Aluminum Plate panels to address the thermal and engineering requirements of the complex installation. ECO Cladding's thermally broken systems for metal panels continue to gain increasing market share with North America's top metal panel fabricators.
Wall bracket-based systems for metal panel installations do allow for fewer penetrations into the air barrier. All manufacturers of air barriers agree, fewer holes in the barrier guarantee a better performing solution for the building. A corrosion-resistant aluminum bracketed system can span greater distances between attachment points, thereby minimizing the penetrations through the insulation and membrane, while still supporting structural loads. The Vci wall brackets are designed to accommodate any cavity depth from 2" to 11" deep systems, providing even greater flexibility for the Metalwerks Aluminum Plate panel installation.
Installed by Total Wall Systems, our vertically-oriented, thermally broken Vci.10 "CI Subframing" pairs seamlessly with any fabricator's metal panel to create a high-performance solution for the long-term.
For a project feature by HDR Architects click here.
For a project feature by Perkins & Will click here.