Spotlight: Alpha E Systems - Floor to Floor Spanning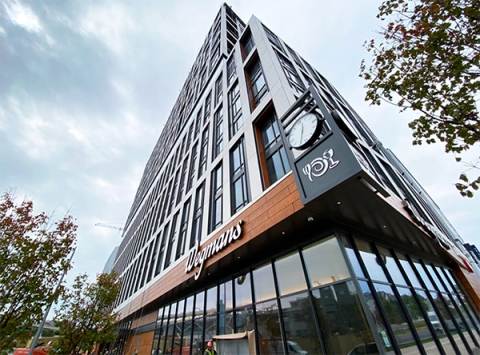 ECO Cladding is pleased to be part of Capital One's 25-year masterplan development project, providing an engineered floor to floor solution for the Block C phase of construction. Our engineered Alpha E Wall Brackets form the key building block for the exterior fiber concrete (UHPC) rainscreen for the Block C podium and tower of this large-scale development in Tysons Corner, VA.
The Tower is adjacent to Capital One's current headquarters and consolidates the company's 1,800 district employees and their strategic plan for future growth. The project is LEED Gold Certified. A Fiber Concrete UHPC panel was selected for the this phase's rainscreen facade and ECO Cladding's Alpha E Wall Brackets allowed for floor-to-floor spanning for the subframing system behind the portrait-oriented UHPC panels.
For the Tower portion of the project, the Eci.10 and Eci. 11 subframing systems were utilized to install the fiber concrete (UHPC) panels. In addition, ECO Cladding's traditional Vci.10 subframing was utilized for the building's base podium. The Alpha E systems offered the design team the following advantages:
High load-carrying capacity
Large spans can be achieved with solid supporting beam recess
Floor to floor spans can be supported
Each bracket is able to perform a fixed and sliding point function
Enables more cost-effective installation, more efficient thermal performance
ECO Cladding's Alpha E "edge-to-edge" bracket is specifically designed to be fixed to concrete floor slabs. This unique, engineered subframing approach is capable of spanning story heights without the need for intermediate fixings. The system is individually constructed and fabricated for each project, making it ideal for over-cladding medium and high-rise buildings.
The fully realized master plan for the Capital One Center includes office, retail, housing, performing arts, and much more. Stay tuned for more updates on this exciting project.