SPOTLIGHT: Alpha Vci.41 System for Center for Missouri Studies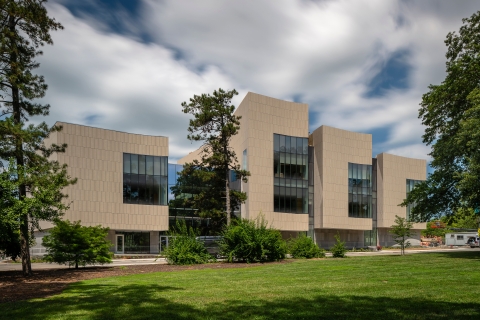 The State Historical Society of Missouri has a new home in the newly completed Center for Missouri Studies in Columbia, Missouri.
The design, by Kansas City's Gould Evans, reflects Missouri's geological characteristics. The Center incorporates materials from different areas in Missouri including a dimensional limestone facade which is attached with ECO Cladding's Alpha Vci.41 concealed sub-framing system. Installation of the limestone cladding was performed by Heitkamp Masonry of St. Louis.
Integrating local and recyclable products, the Historical Society wanted a structure that would last for a hundred years. Many efficiencies have been built into the design as they look to achieve LEED Gold status from the USGBC. ECO Cladding's Continuous Insulation (c.i.) compliant Alpha Wall Brackets contribute to both the energy efficiency and sustainability of the building's envelope.
The scalability of ECO Cladding's Alpha bracket systems enables an engineered solution that can accommodate the unique properties of limestone as well as any other type of cladding panels. Submit your project to us using our Build Your Project submission process and we can assist!