SPOTLIGHT: Alpha Hci.10 System Selected for Built-in Adjustability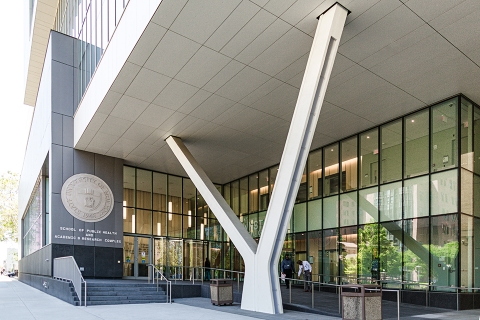 The new 8-story Academic Research Complex for the School of Public Health at SUNY Downstate is a design by Ennead Architects. The building is composed of three "stacked" boxes, of which two dramatically sit atop V-shape supports.
Adjustable subframing was the key to this successful facade installation. ECO Cladding's Alpha Hci.10 subframing system with adjustable brackets allowed the Swisspearl® fiber cement panels to easily be installed with definitive symmetry. Our Alpha brackets, with a built-in 1.5" adjustability, could smoothly accommodate in-the-field tolerances, making it an efficient process for various trades to work together to create perfect lines.
Alpha brackets provide the design community with control and ease in creating wall cavity depths. Our Alpha H horizontal brackets come in standard dimensions of 35mm (1.38") to 235mm (9.25") and in two sizes (H and H+). Use the appropriate bracket size to meet your exterior insulation requirements! The Alpha H brackets' "thumb hold" feature has a +/- 3/4 inch of built-in adjustability to accommodate out of plumb conditions found in the field. This allows for a more rapid set of materials and an easier install without the use of plastic shims.
Submit your project to us using our Build Your Project submission process and we can assist!