SPOTLIGHT: Lowell Justice Center Achieves LEED Platinum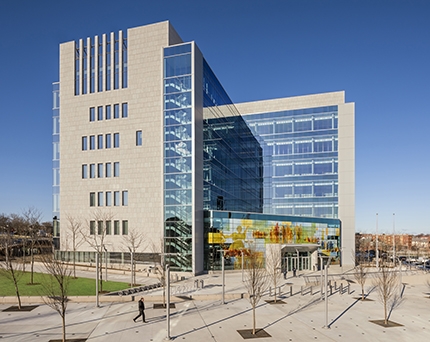 Located within the Lowell National Historic Park, this new Justice Center forms the cornerstone of Lowell's Hamilton Canal District development master plan. Designed by Finegold Alexander Architects, the project was the largest of three pilot studies for the Commonwealth of Massachusetts' Division of Capital Asset Management and Maintenance (DCAMM)s ZNE initiatives. The courthouse is designed to use 40% less energy than code requires.
The natural stone rainscreen exterior envelope helped to contribute to this goal. Featured in Green Building & Design Magazine, Lowell now has the honor of being the first new construction, state courthouse in the country to achieve LEED Platinum-certification. A tight building envelope, coupled with glazing that maximizes daylighting, chilled beams and displacement ventilation, and photo-voltaic panels; are some of the many sustainable features. ECO Cladding's Vci.40 subframing system was utilized for the stone rainscreen facade, as an engineered c.i. focused subframing system was essential for this energy-efficient design. Installed by the team at Total Wall Systems, the ability for the Vci.40's concealed anchoring system to meet the dead load requirements of the natural stone panels was also a key factor in the installation.
For a project feature by the architect click here. For a feature in Green Building & Design Magazine click here.
Photo Credit: Anton Grassl