Coming 2023! PORT ANGELES FIELD ARTS & EVENTS HALL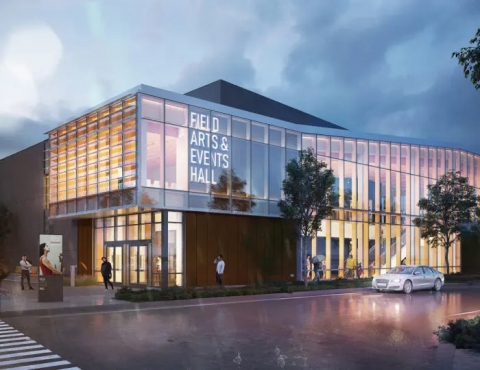 Coming 2023! The Field Arts & Events Hall, the first of three buildings dedicated to the arts, culture, and science planned for the Port Angeles Waterfront Center, will provide a new performing arts space and community gathering place on the city's waterfront. This performing arts Center is in a remote location along Washington's coast on the Olympic Peninsula. The Center will be a 500-seat multi-purpose auditorium and 300-seat state-of-the-art conference facility. Designed by LMN Architects, the building will specifically support numerous community arts organizations and aspires to enhance the broader creative community of Port Angeles. ECO Cladding's Alpha Wall Brackets will be utilized for the installation of the rainscreen subframing for multiple panel types of the exterior facade of this project. All of our Alpha brackets are extruded with 6063-T6, copper-free, and "marine-grade" aluminum. Aluminum can go places and create shapes that steel cannot, often forming deeper, more intricate shapes. Since aluminum is more elastic than steel, it is especially ideal for creating precise parts for deep and straight walls and is efficient to fabricate with most punching and extrusion machines. Aluminum is the preferred material for curtain walls and will become the same for subframing systems in North America. All of ECO Cladding's systems are non-combustible and are not triggers for the NFPA 285 requirements in the IBC.
The Aluminum Advantage:
Non-corrosive Material - Our Aluminum is a 6063 T6 grade architectural grade product that provides a level of corrosion resistance that is superior to other rainscreen attachment metals such as galvanized steel or galvalume. This is especially important for open jointed systems that can allow water to flow into the ventilated cavity.
Lifetime Material Consistency - Aluminum does not become brittle over time like fiber-glass or plastic products. For the life of the building, aluminum brackets have the advantage.
Better Spanning Distances - ECO Cladding's solutions allow maximum spanning capability, while simultaneously addressing dead load, wind load, seismic concerns, thermal requirements, and material deflection.
Recycled Content - Alpha brackets use 75% post-consumer recycled content, making it the environmental choice.
Alpha brackets provide the design community with control and ease in creating wall cavity depths.
Stay tuned for further updates on this exciting project.